After the End, by Amy Plum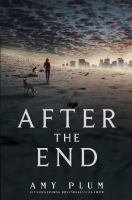 World War III has left the world ravaged by nuclear radiation. A lucky few escaped to the Alaskan wilderness. Jueanu's clan has survived for the last thirty years by living off the land and never leaving the boundaries. However, when Juneau returns from a hunting trip and discovers everyone in her clan has vanished, she is forced to set off to find them. Leaving the boundaries of their land for the very first time, she learns something horrifying: There never was a war. Cities were never destroyed. The world is intact. Everything the elders, her mentor, and her parents told her was a lie. 
But if there was no war, where is Juneau's clan and who are the men after her?